Set Screw Points
Socket Setscrew
Socket set screws are used to generate a compressive load, the direct opposite to a fastener tensile load that we see with the installation of bolts and screw. Their purpose is to hold parts beneath the cup or points, and withstand any rotational movement or lateral displacement and to resist vibration.
The holding power of set screws is determined by their seating torque, accordingly socket set screws are made of the highest class or grades and have internal hexagon drives. Lower tensile set screws have slotted drives, and are traditionally called grub screws.
Socket set screws can be specified by either their hardness this is normally 45H or their class that is normally 14.9
Socket Set Screws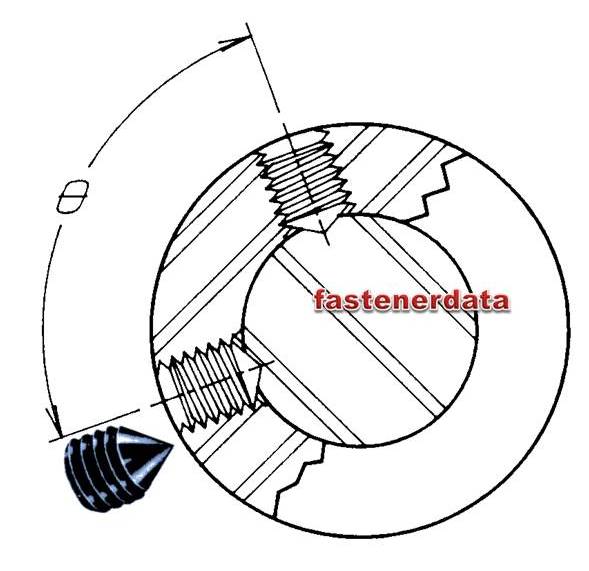 Cup Point Setscrew
Cup points are concave Hollowed ends and are the most commonly used point style. Used when the digging in of the point is not undesirable, leaves a ring dentation mark.
Dog Point Setscrew

Dog point is a Flat end with the threads stopping short of the end with the end fitting into a circular locating hole ensuring alignment
Cone Point Setscrew
Cone Pointed end, this type of point generates the highest torsional holding power and is typically used for a permanent connection. It can also act as an adjuster or a pivot point
Knurled Cup point Setscrew
Knurled cup point is a cup point with knurls' cut on the outside of the cup for improved locking and to resist vibration by digging into the butting surface
Oval Point Setscrew
Oval or Rounded end set screw is typically used when frequent adjustment is required. The oval end reduces indentation and can butt at different angles.
Flat Point Setscrew
Flat point causes little damage to the shaft and is used when frequent adjustment is required, flat points will align against ground flats and can be used against a thin wall or soft material.
Thrust Point Setscrew
Thrust point is a rounded point the allows movement at the base of the set screw, thrust points often fit into a mating cup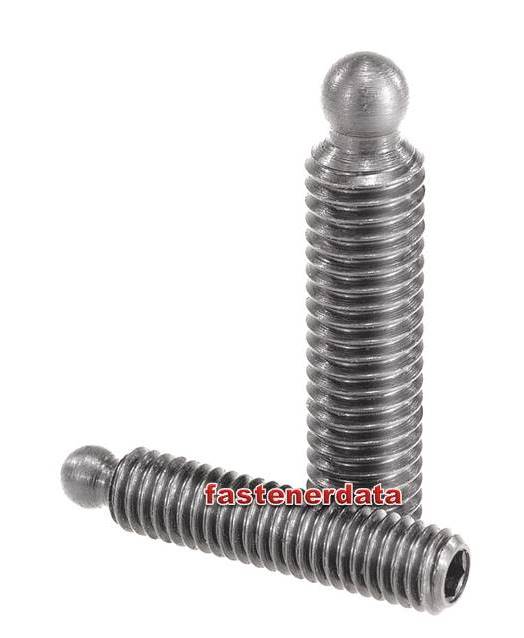 Set Screw Tips
Tips at the end of the set screw are in various soft materials like plastic and copper are designed to reduce damage to the surface they butt against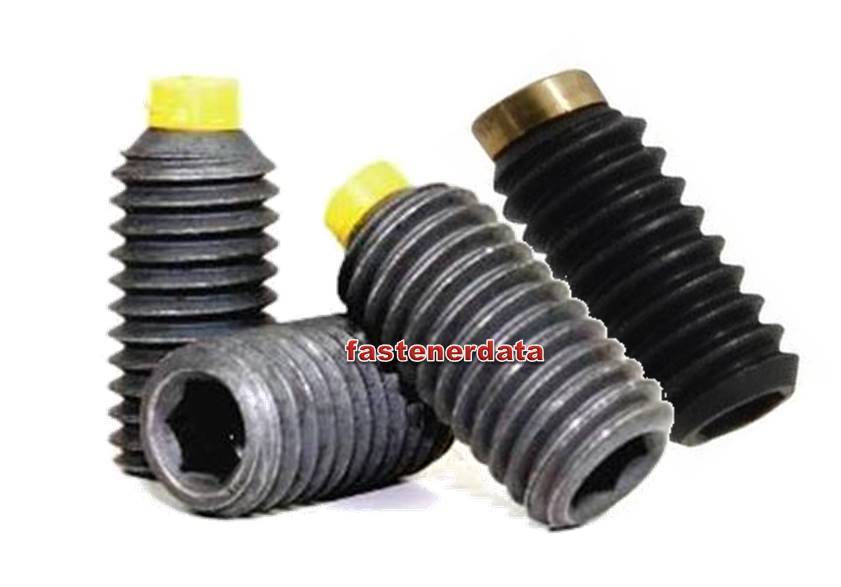 Plunger Point Setscrew
Set screw containing a spring and ball bearing, used
Socket Set screw History
Fastener socket screw
fixings and fasteners including Allen screws
socket screwed product information at fastenerdata