Screw Drives
Screw Drives
Screws have historically needed either a way to avoid rotation or a method to assist rotation. Screw drives that existed in the 1800's and before were slotted internal drives and square external drives, during the 1900's, there was an abundance of new drive designs to meet a range of objectives. Machine screw and tapered shank screws are often produced with internal drives such as Pozi, Phillips or internal square drives; these drives were designed for camming out and are weak at transmitting high torques. New high torque drives like the hexagon, new Phillips® heads, and the hexagon socket drive resolved this issue. Phillips® has developed a range of high torque internal drives; they are not in frequent use in the general market and designed for high volume specific use.
.
Screw Drives
Scroll the page or click on the link
Slotted Drive Phillips® Drive Pozidriv® Frearson Drive Hexagon Drive External
Socket Hexagon Drive Internal Square Drive External Tool Post Screw Robertson Drive Internal
Torx® Drive Internal Torx® Drive External Combination Drive Hexagon/Slotted
Combination Drive Pozi/cross slotted One Way Drive Clutch Drive Tri-Wing Drive Snake eye Drive
Spanner head Security Pin Socket screw Security Pin Torx® Torq-Set® Pentalobe Drive
12 Point Double Hexagon Drive Internal 12-point Double Hexagon Drive External Double Square Internal
Triple Square Internal Drive Polydrive Internal 12 Spline Drive Internal Bristol Drive Internal
Mortorq® Spiral Drive ACR® Ribbed Torq-set® ACR® Ribbed Phillips® Cruciform Drive
.
.
.
Slotted Drive
Slotted screws are driven by a slotted screwdriver with a straight blade that fits the slotted drive; this is the oldest and simplest drive type. The disadvantage of this drive is that it can twist out (cam-out) under torque when the screw slot or driver tip becomes worn. Commonly found on tapered thread woodscrews and parallel thread machine screws in domestic applications or where field retightening or removal may be required. It has many applications but is not suitable for power driver use.
.
.
Phillips® Drive
J.P. Thomas invented and patented this screw drive in 1933. Cold-formed production at that time was too expensive. Subsequently, Thomson sold the patent to Phillips; hence the name Phillips for this cross-head screw is common. The Phillips® drive was designed with a cruciform or cross recess allowing a more positive engagement than that available from a slotted drive to facilitate high-volume Commonly found on self-tapping screws and machine screws, mainly where they can be power assembled on a production line. Superior to the slotted drive, It is still subject to wear and 'cam-out' problems.
.
Pozidriv®
Pozidriv® developed by Phillips and the American screw company to improve engagement and driver grip compared with the Phillips® drive. This form of 'cross recess drive, known as 'type Z and is less prone to 'cam out' when drive tools are worn. The difference between Phillip and Pozidriv is in the way that the drivers are cold formed. The Phillips driver has four simple slots, in the case of the Pozidriv, each slot is the result of two processes at right angles. The arms of the cross are parallel-sided in the case of Pozidriv and tapered in the case of Phillips. The pozidriv has four additional points of contact and does not have the Phillips drive rounded corners.
Frearson Drive
Frearson screw drive, also using the names Reed drive or Prince drive and are similar to a Phillips but the Frearson has a sharp tip and larger angle in the V shape. An advantage Frearson against the Phillips drive is that one driver or one driver bit fits all screw sizes and all screws require a Frearson screwdriver or bit to work correctly. The tool recess is a sharp cross, allowing for higher applied torque, unlike the rounded, tapered Phillips head, which can cam-out at high torque. Developed by an English inventor named John Frearson from Birmingham in the 19th century and produced until the late 1970s in the UK. It's is still manufactured in the USA, and it's standard is ANSI Type II Cross Recess. It is often found in marine hardware.
Hexagon Drive External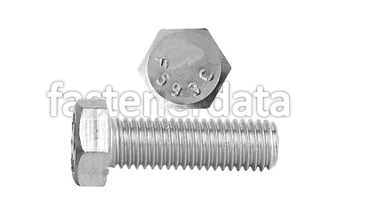 Bolt and screw external hexagon drives are the most common method of creating rotation, it appears on bolts, machine screws, parallel threaded screws and tapered screws and historically had a higher torque range. Traditionally assembled using a hexagon opened ended spanner (wrench), power drivers and sockets are the more modern way of joining the product. More detail
.
.
.
Socket Hexagon Drive Internal
.
Socket screws have a hexagon socket recessed in a cylindrical screw head. Less space for the head is needed in comparison to a hexagon screw. Comparing to an equal-sized Phillips screw, a socket screw can absorb about eight times the torque, allowing heavier parts to be screwed tightly to one another and are easy to solve again for inspections and maintenance.
Socket screw or Allen screws as they are sometimes called after the inventor; with its internal hexagon is tightened with a hexagon wrench 'key' and is used where the head of the screw or bolt must not protrude above the surface or where the 12.9 highest class of screw is required. Primarily used in high torque applications such as compressors, pumps, automotive, heavy equipment, tool die sets.
.
Square Drive External

.
Square drive screws have declined in usage but still used in the construction industry with a parallel thread. External square drives are used in timber bridgework where the larger driving surface was required. Used as the head of a taper threaded coach screws (Lag screw the USA) not to be confused with a coach bolt.
.
Square Drive Tool post screws also have a square head and were extensively used on machine tool posts; they are being replaced by the higher grade hexagon socket head cap screw (Allen screw)
.
.
Robertson Drive Internal Square
.
Robertson drives also called internal square, or Scrulox drive has a square socket drive in the screw head with a slight taper keeping the screw on the tooltip. Robertson screws are commonplace in Canada. Peter Robertson's breakthrough in 1908 was to design the socket's taper and proportions in such a combination that the heads could be efficiently and successfully cold formed. When the Ford Motor company tried out the Robertson screws, Henry Ford found that they saved considerable time in Fords Model T production. When Robertson refused to license the screw design, Henry Ford chose to limit their use in production to Ford's Canadian division. Robertson's refusal to license his screw design prevented their widespread adoption in the United States, where the more widely licensed Phillips' head gained wider acceptance and was taken up by Ford.
Torx® Drive Internal
Torx® drive was developed to deliver higher torques with ease of engagement. The drive is widely used in the motor industry and elsewhere for automatic installation. It is also used with taper screws for use on chipboard because of its superior engagement with the drive bit which reduces recess cam-out compared to Phillips cross head drives.
.
.
Torx® Drive External
Torx drive as with 12-point screws is usually associated with a flange head and have a very high driving torque capability; frequently found in automotive and aircraft engine applications.
Usually restricted to bolt products but can be produced fully threaded.
Combination Drive Hexagon/Slotted
Combination drives are usually associated with taper thread screw and machine screw products the combination drive can be power driven by a hexagon tool on the assembly line and removed or adjusted in service with a blade screwdriver.
.
Combination Drive Pozi/cross slot.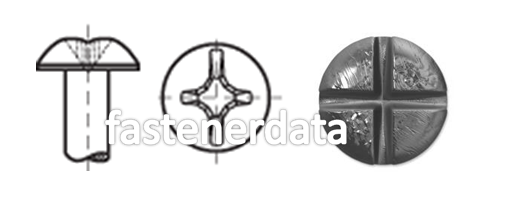 Combination drives are most commonly found on mushroom head roofing screws and machine screws, allowing for power-driven assembly and field removal or adjustment by an ordinary flat blade screwdriver.
.
.
.
One Way Drive
One-way screws are screws with a head drive that can only be rotated in the tightening direction. They are called one-way clutch screws, and can be installed with a standard flat-blade screwdriver, but cannot be easily removed with the same or different standard drivers. One-way screws are commonly used in commercial bathrooms and on vehicle identification plates to prevent tampering.
One-way screws are only practical when removal is unlikely. They are difficult to remove with slotted drive tools because the slot is designed to cause cam out when even minimal torque is applied in the direction to unscrew it. A unique removal tool called a two pin one-way screw extractor can be used.
.
Clutch Drive
Generally confused with the one-way screw, Type A clutch drive is known as a standard clutch and resembles a knotted bow tie. Commonly used in General- Motors automobiles, trucks and buses in the 1940s and 1950s, unless forged to order this product is not readily available.
.
.
.
Tri-Wing Drive
Tri-Wing® is a three-winged Phillips Security screw; its application is usually confined to screw products, in aircraft, public transport fittings and electrical appliances where maintenance should only be carried out by authorised service personnel. The tri-wing, also known as triangular slotted, is a screw with three slotted "wings" and a small triangular hole in the centre. A version with left-hand threads is called an Opsit screw, where unscrewing can be done by turning the screwdriver clockwise, which is the opposite of tri-wing and regular screws.
The design was adopted in the aerospace industry, led by Lockheed and McDonnell Douglas, but met with mixed results. British Aerospace and Airbus are also users of this fastener it is seen on electronics equipment, hair dryers and fan heaters and is an exceptional security fastener, resists vibration and has a strong head and tight torque.
.
Motorq

®

Spiral Drive

MORTORQ® Spiral Drive System offers outstanding operational and cost efficiencies. Its unique shape provides for full contact of the driver over the recessed wing resulting in extremely high torque capability without risk of in or out damage to the fastener, tool or surrounding area. Additionally, its low-profile head helps reduce weight.
ACR® Ribbed Torq-set®
ACR® Ribbed, TORQ-SET® Offset Cruciform Drive System a uniquely sized driver inserts and removes each diameter fastener so that optimum torque is provided for every size. Interlocking ribs applied to the removal side of the driver bit and screw surface ensure fast removal even when the fastener is corroded, seized or frozen. The ACR ribbed TORQ-SET Offset Cruciform Drive System meets the demands of high torque applications protecting against cam-out.
.
.
.
ACR® Ribbed Phillips® Cruciform Drive
ACR® Ribbed PHILLIPS® Cruciform Drive System advanced design keeps the driver securely mated to the screw during fastener removal, eliminating recess damage and damage to surrounding areas. The results are safely removed screws every time with lower costs, more productive workers and the elimination of drive or driver damage or the need for drill outs.
.
.
.
Snake Eye Drive Spanner Head
Snake-eye screws are typically found in Security applications, usually with self-tapping screws or machine screw bodies where high assembly torque is not required; for example with plastic materials.
The spanner or Snake-Eyes screw drive uses two round holes opposite each other and is designed to prevent tampering; also uses the informal names include pig nose, drilled head or twin hole. Snake eye drives are used in elevators, commercial bathrooms and underground metro systems. Soft spikes on golf shoes, knives, cameras, and gun manufacturers use a variation of this drive with 3 round holes in a triangle pattern. The driving tool is called a "spanner driver" or "spanner screwdriver or pin spanner.
.
.
Security pin socket screw Security Pin Torx®
Security pin is a socket cap or torx® screw that has been drilled and pinned; with high volumes, the pin can be produced when the head is forged. Drilled and pined versions can have a solid metal pin or a spring tension pin inserted.
.
Torq-Set®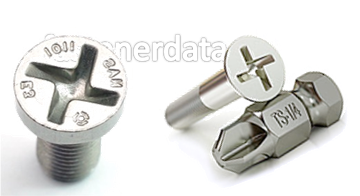 Torq-set® is a Phillips product it is a newer version of the Tri-Wing with four wings. It has a special safety profile, which is due to the asymmetrically offset flank to the centre offset cross. If inappropriate tools are used, this security screw gets easily destroyed and can no longer be released; it has proven performance where screws must be torque-tight.
.
.
.
12 Point Double Hexagon Drive Internal
A 12-point screw drive uses two overlapped hexagon shapes, one rotated by 30º. Standard 12-point hexagon socket bits and wrenches fit these screws. The screw heads are typically flanged and may fit into standard hexagon socket cap screw counterbores, moulded or machined into parts to be fastened. Compared to hexagon sockets, the advantage of this drives is the higher torque capability.
.
.
.
12-point Double hexagon Drive External
The '12-point' or 'double hexagon' drive is used for more natural wrench engagement. It is widely used in the aerospace and power generation industries, most frequently in a flange head.
Usually associated with a flange head and in high torque applications where there is a restriction on head size or where space limits external hexagon driving tools. The 'hexalobular' drive is a radius spline type of drive that has good engagement properties while at the same time giving high wrenching torques. It is used as an internal drive in sockets, and also as an external drive on flange bolts. It is widely used for automatic assembly in the automotive industry but can increasingly be found in fasteners for many other applications.
Probably the best know proprietary version is TORX®, other types of drive are used in particular situations, such as the square drive, the spline drive, the Pentagon drive.
.

Double Square Internal Drive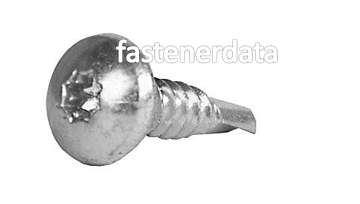 Double-square drives are two Robertson squares overlaid at 45° rotation, forming an 8-pointed star. The design is similar to a square drive, but which can be engaged at more frequent angles by the driver bit.
.
.
.
Triple Square Internal Drive
Triple-square drive, also known as XZN, is a screw drive with 12 equally spaced protrusions, each ending in a 90° internal angle. The name derives from overlaying three equal squares to form such a pattern with 12 right-angled protrusions (12-pointed star). Three Robertson squares are overlaid at a successive 30° rotation. It resembles a square Robertson drive but can be engaged at more frequent angles by the driver bit.
These screws can be driven with standard square Robertson bits; a hexagon key must not be used where a key of square cross-section is the only correct fit.
Triple-square drive bolts and screws have been used in high-torque applications, such as cylinder head bolts and drive train components. They are commonly found on German cars such as Audi, BMW, Mercedes, and Porsche.
.
.
Polydrive Internal
Polydrive screw or RIBE drive is a spline-shaped drive with rounded ends in the drive head. The tool has six flat teeth equally spaced; the size is controlled by the diameter of the star points. Its primary advantage is that it resists cam out. It is used mainly in the automotive industry in high-torque applications, such as brakes and driveshafts.
.
.
12 Spline Drive Internal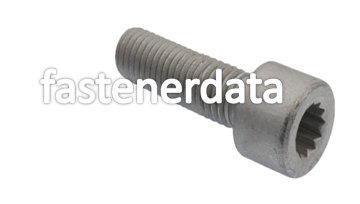 The 12-spline flange screw drive has twelve splines in the fastener and tool. It consists of 12 equally spaced protrusions, each with a 60° angle. It is achieved by overlaying four equilateral triangles; each one rotated 30° over the previous one. The spline drive was part of the USA designed Optimum Metric Fastener System and was defined by ASTM B18.2.7.1M Its key benefit is its ability to resist cam out; it is used in high-torque applications, for example, tamper-proof lug nuts, cylinder head bolts, and other engine bolts.
.
.
Pentalobe Drive Internal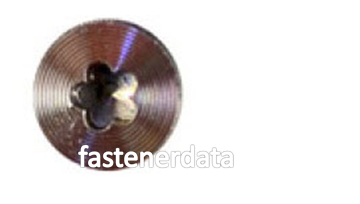 Pentalobe security screw is a five-pointed tamper resistant system primarily used by Apple in its products. Pentalobe screws have been used by Apple since 2009 when they were first used in the MacBook and iPhones. Apple attracted criticism because of the introduction of the pentalobe screw; it was assumed that it was an attempt to lock individuals out of their devices.
.
.
Bristol Drive Internal

Bristol wrench company designed the Bristol screw drive; it is a spline with four or six splines. The grooves in the wrench are cut by a square-cornered broach, giving a slight undercut to the outer corners of the driver. The main advantage of this screw drive is that all of the torque is applied at right angles to the fastener spline face, this reduces the possibility of stripping the fastener. For this reason, Bristol screw drives are often used in softer, non-ferrous metals. Compared to a socket Drive, Bristol drives are less likely to strip for the same amount of torque; however, the Bristol drive is not much more strip-resistant than a Torx drive.
This type of drive is used in avionics, higher-end communications equipment, cameras, air brakes, construction and farm equipment, astronomy equipment and military equipment. Variants with a pin in the centre are found in arcade game systems.
Phillips, Allen, Robertson